Permanent Locations

ATLANTA, GA
Opening for the
New Year's Season
4505 Fulton Industrial Blvd at I-20
Atlanta, Georgia
(404) 472-9800

This is truly Atlanta's mega fireworks store at I-20 and Fulton Industrial Blvd just outside The Perimeter.
Our 30,000 sq. ft. warehouse showroom is the largest fireworks store in Georgia.
WEST GEORGIA/ ALABAMA
Opening for the
New Year's Season
63 County Rd 415 at I-20 & Exit 210
Heflin, Alabama
(256) 748-8551

Our original mega fireworks store is just 45 minutes west of Six Flags on I-20 at the first Alabama exit.
Visit our 22,500 sq. ft. warehouse showroom to find everything for your celebration.
MEMPHIS, TN
Open Year Round!!!
3509 Canada Road
Lakeland, TN
(901) 388-7580

 We are located just off of I-40 at exit 20 across the street from the Tiger Mart gas station.
Our Lakeland location serves the greater Memphis area and surrounding communities.
Regular Season Shopping Hours:
Monday thru Saturday
 9am to 4pm
Sunday     Closed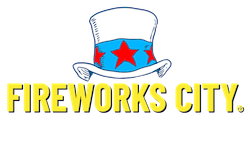 Lillian, AL
Opening for the 4th of July Season, June 17, 2022!!
34531 U.S. 98
Lillian, AL 36549
(251) 962-4100
Our Lillian location serves the Southern Alabama and Pensacola area and surrounding communities.
4th of July Season Shopping Hours:
June 17 thru June 30     9am to 9pm
July 1 thru July 4     8am to 11pm
July 5     9am to 9pm
Fireworks City
®
Here at Fireworks City, we have been offering the latest and greatest government approved fireworks for over 60 years, with store and tent locations all throughout the Midwest and South-east. So browse our amazing fireworks selection online and visit one of our locations near you to purchase the highest quality fireworks at the best prices. In addition to our great selection, our dedicated staff is knowledgeable and can help you select the best assortment for your event and budget. And remember, the more you spend the more you get free!
 CELEBRATING AMERICA SINCE 1960